(IN STOCK:  FAST SHIPPING, DELIVERY IN 3 - 8 DAYS)
STOP! Your health is in 
danger

 from invisible germs!

Don't leave your health to chance. The CDC recommends wearing a face-covering in public, where social distancing measures are difficult to maintain, and in areas of significant community-based transmission. These disposable face masks help block exhaled droplets to prevent the further spread of germs.
 The 3 ply masks are an industry standard for respiratory equipment which has the intended effect of filtering up to 95% of large-particle droplets greater than 0.3 microns. Use to prevent the spread of germs.
 Features:
* Disposable 3 ply non-woven masks used to filter airborne particles (including germs), droplets, saliva, aerosols, chemical pollutants, dust, automobile exhaust, pollen
* Stay safe and protected. BFE filtration rate of 95%, with a 95% protective efficiency
*Made of hypoallergenic environmental friendly material, moisture-proof, non-toxic, non-irritating, soft and breathable
* Adjustable noseclip for safety without compromising comfort
* Elastic ear loops to reduce pressure to the ears for comfortable all day use (can be criss-crossed around ears or tied into a knot for tighter fit)
* Size: 6.89'' x 3.74'' (17.5 x 9.5 cm)
*  FDA, CE Certified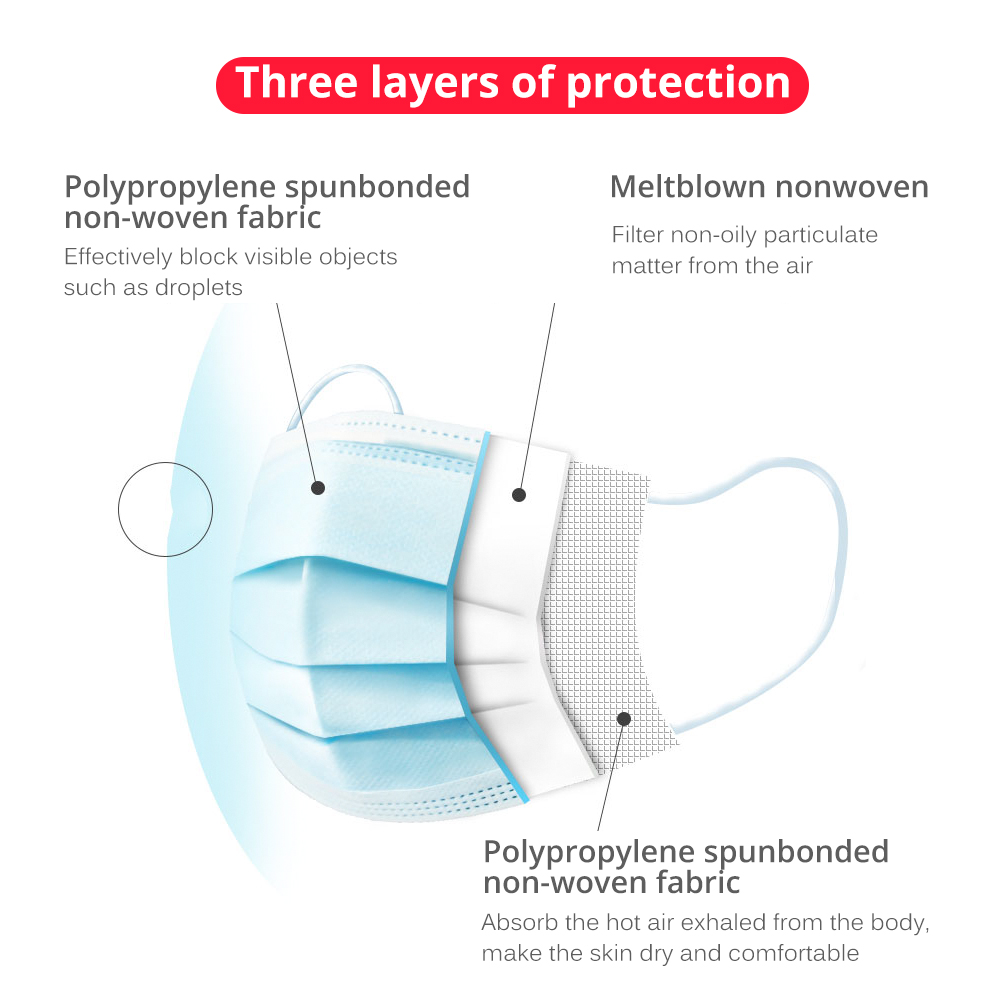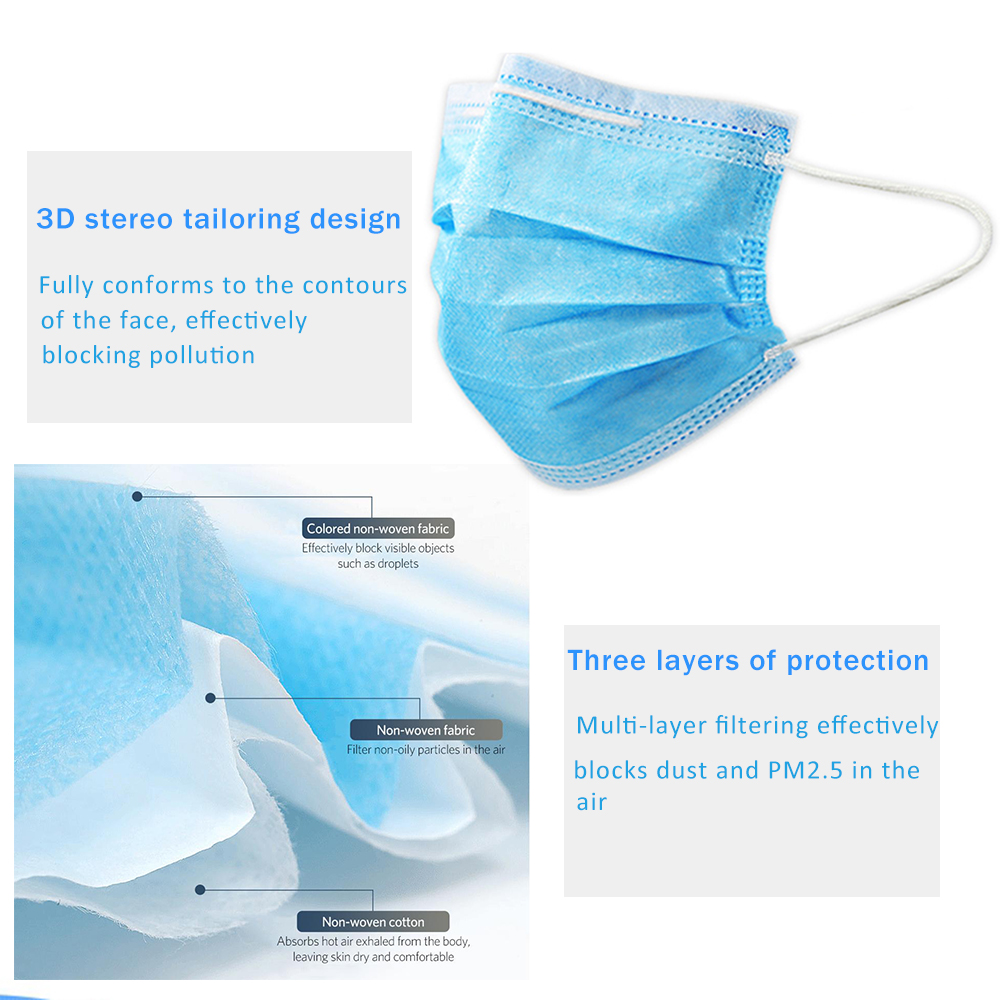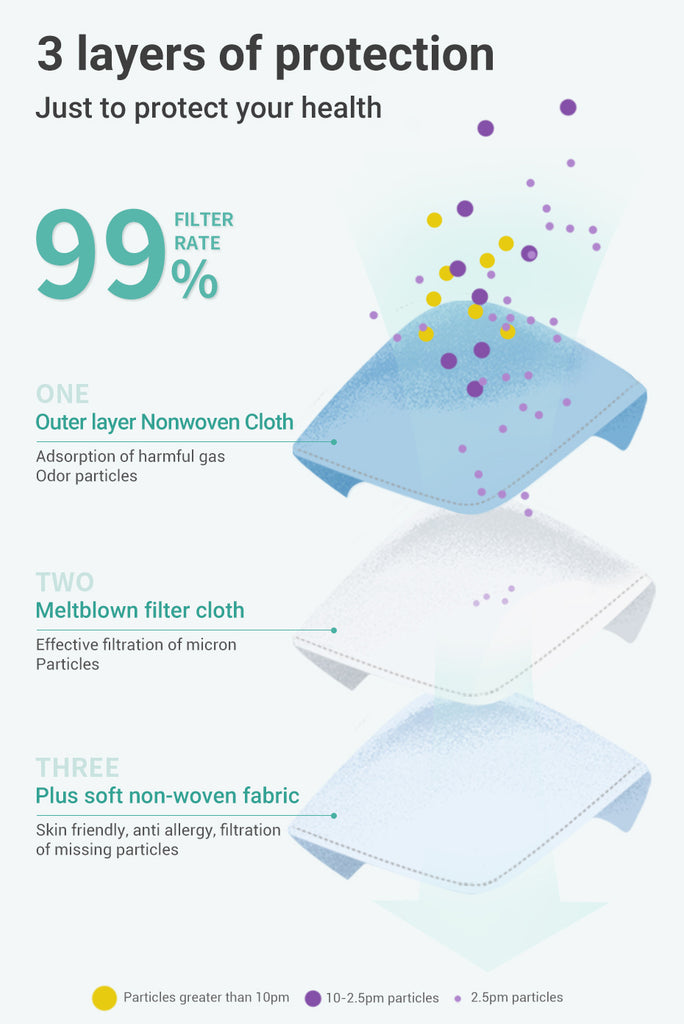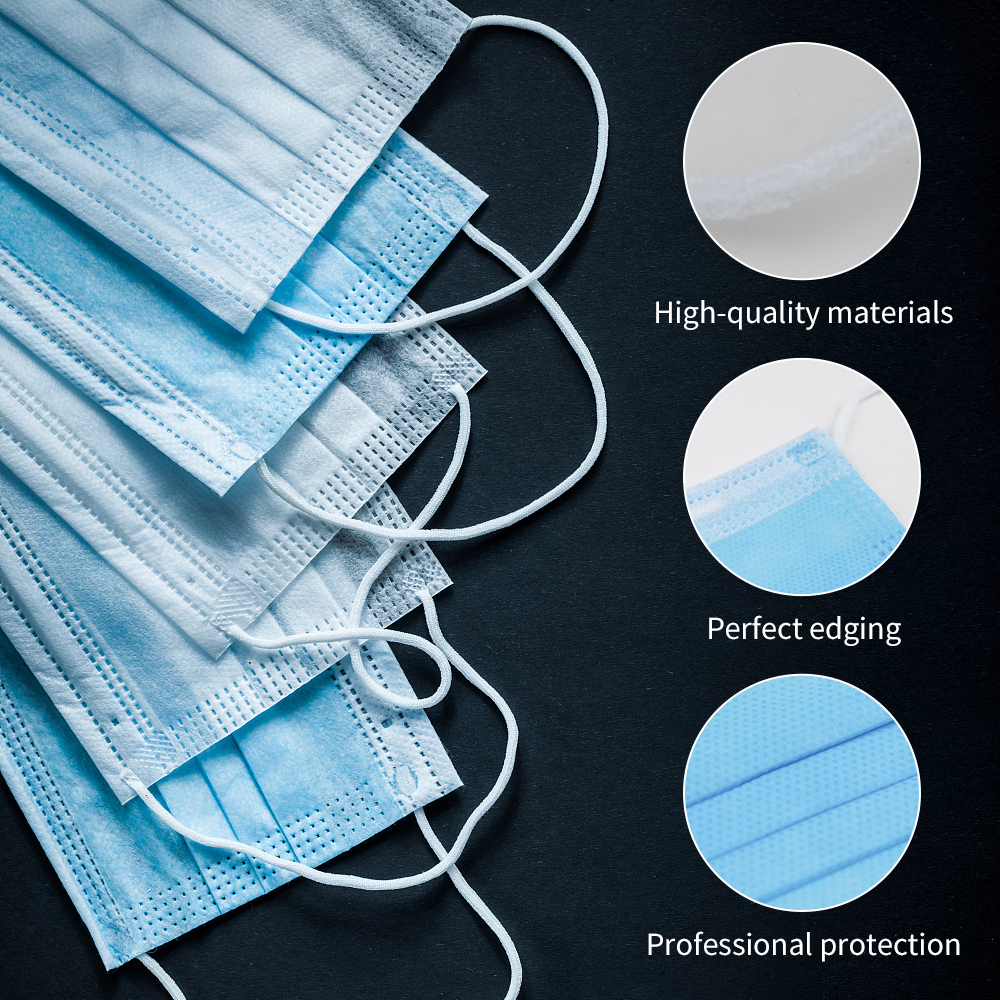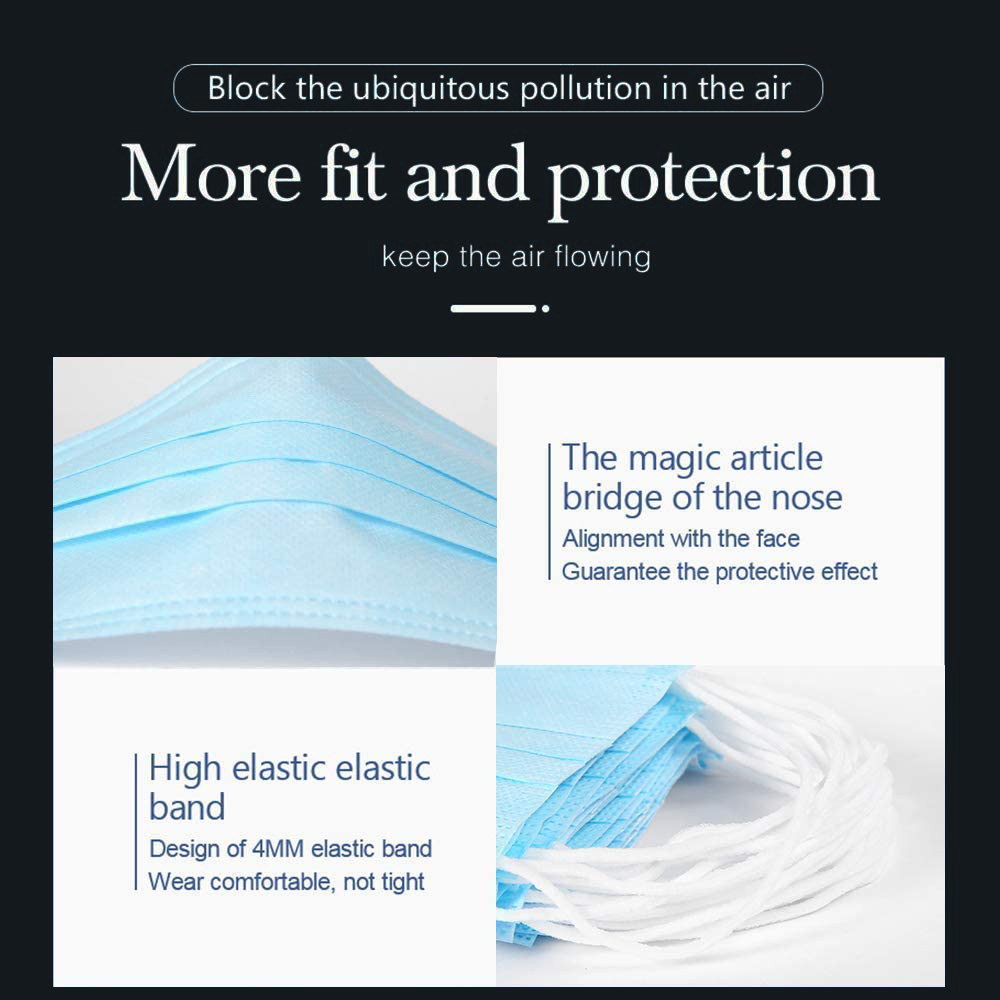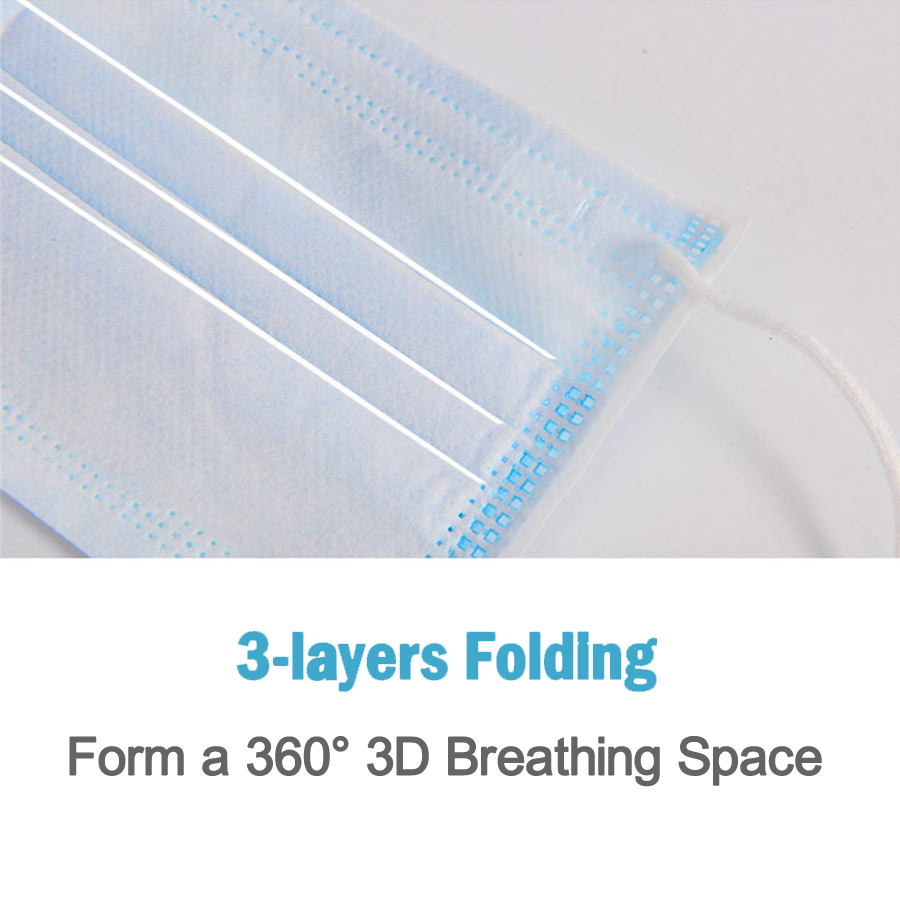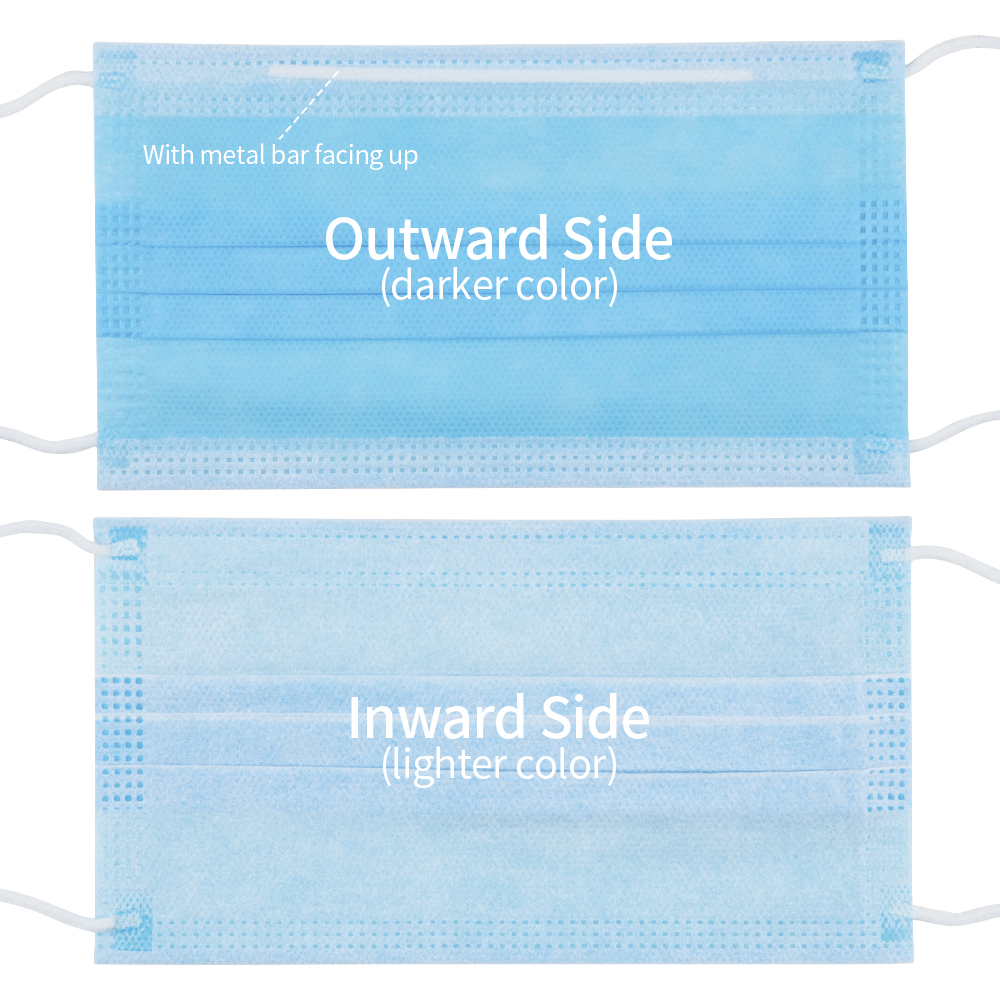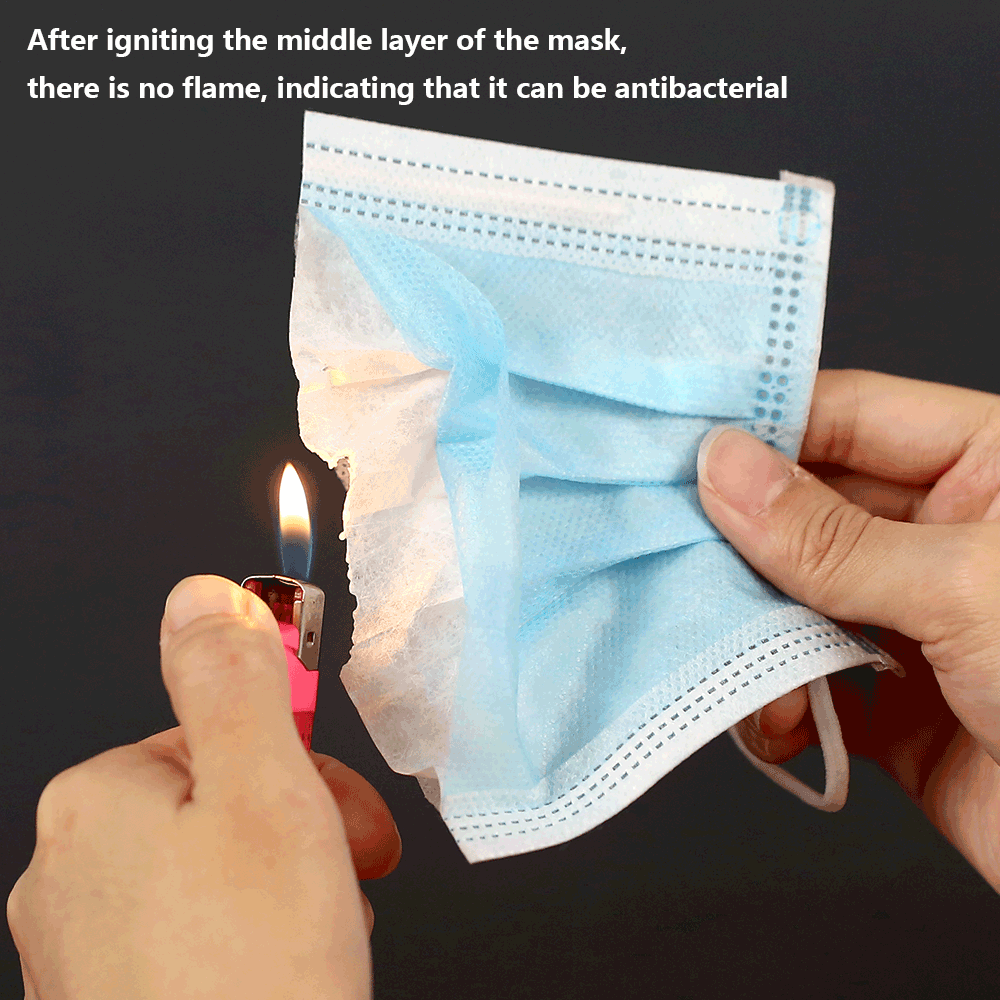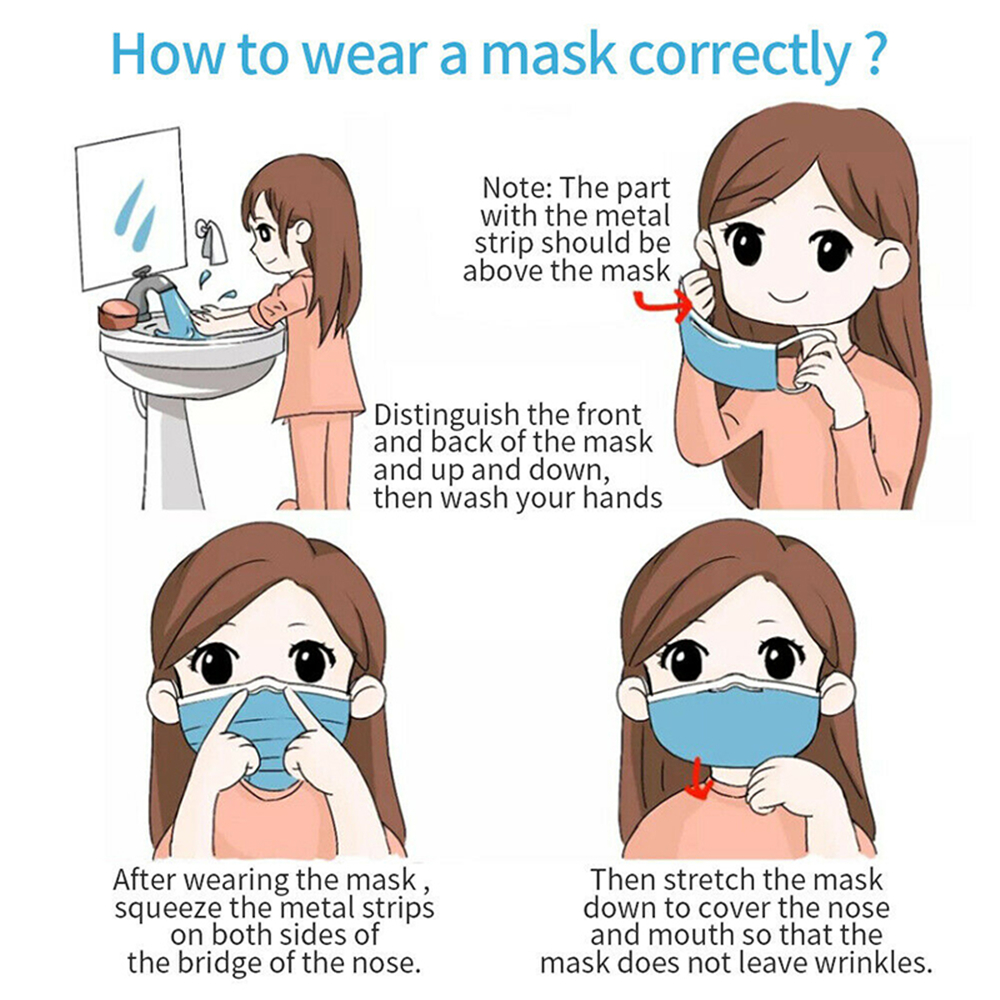 | | |
| --- | --- |
|  Certification/ Class (Standard) | 3 ply mask |
| Filter Performance – (must be ≥ X% efficient) | ≥ 95% |
| Intended Use & Purpose | Fluid-resistant and provides the wearer protection against large droplets, splashes, or sprays of bodily or other hazardous fluids. Helps protect others from the wearer's respiratory emissions. |
| Test Agent | NaCl |
| Flow Rate | 85 L/min |
| Total Inward Leakage (TIL)*  | ≤ 8% leakage (arithmetic mean) |
| Inhalation Resistance  | ≤ 350 Pa |
| Flow Rate | 85 L/min |
| Exhalation Resistance  | ≤ 250 Pa |
| Exhalation Valve Leakage Requirement | Depressurization to 0 Pa ≥ 20 sec |
| Force Applied | -1180 Pa |
| CO2 Clearance Requirement | ≤ 1% |
| Testing & Approval | Passed YY/T0969-2013 standard for a single-use face mask. |
Click the links below for downloadable certification: 
Shipping Policy
FREE FAST SHIPPING ON ALL ORDERS
Shipping Costs: 
All Orders Ship FREE with FAST Ground Shipping
Standard Free Shipping Delivery Times: 
Within USA 4 to 9 business days
Processing Times: 
Once we receive your order, we start working on it right away! All orders are subject to verification and approval and may take up to 2 business days to process before shipping. Please note we do not ship on Saturdays, Sundays, or holidays. Orders placed on Friday after 3pm PST, Saturday, or Sunday will be processed by our warehouse the following business day.
Tracking Number: 
After you place an order, you'll receive an email confirmation with your order number. When your items are shipped out, you will receive an automatic notification from the system via email or SMS providing you with a tracking number via a separate email. Please allow at least 12 hours for the tracking information to update before reviewing your shipment status.
Lost Packages: 
For issues with delivery or tracking, the easiest and fastest way to get a resolution is to reach out directly to the shipping company provided in your tracking information. Sometimes carriers will prematurely mark shipments as "delivered", or need additional information from you to complete the delivery. 
If you're unable to resolve the issue with the shipping company, email [email protected] and we'll get to the bottom of it!
Unexpected Delays: 
In some (rare) instances the delivery may take longer than the standard shipping times stated above due to reasons beyond our control
UVClean Health LLC
2436 Fillmore St #223, San Francisco, CA 94115 United States of America
Contact Us: 
+1 (415) 594-4108
Payment & Security
Your payment information is processed securely. We do not store credit card details nor have access to your credit card information.